Womens Thunder Climbing Shoe
Item Details
|
Reviews
(
1
)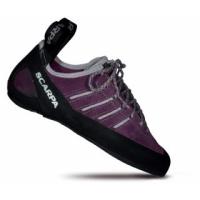 Manufacturer:
Scarpa



This item may be available at:
Description
Scarpa Womens Thunder Climbing Shoe Spring 2009 The Thunder Lady by Scarpa is for all-around use, the perforated suede uppers and Taibrelle lining guarantee climate-control and minimal stretching.Features:Medium flex and comfortable toeboxFully lined for moisture dissipation and shape retentionPerforated suede uppers are durable and breathableAwesome value for an all-around performerUpper: SuedeLining: TaibrelleSole: Vibram XS Grip 5mmLast: FFWeight: 370g 39Scarpa Product WarrantySCARPA products are covered by a 1 year limited warranty from the original date of purchase. This warranty covers defects in materials and workmanship. Damage that is due to normal use and wear, abuse or accidents is not covered by this warranty. Products that have been resoled or otherwise modified are excluded from this warranty. Fit is not covered by this warranty. Except as otherwise specified above. SCARPA MAKES NO WARRANTY OF ANY KIND, EXPRESSED OR IMPLIED, INCLUDING WITHOUT LIMITATION ANY WARRANTY OF MERCHANTABILITY OR FITNESS FOR A PARTICULAR PURPOSE, OR ANY WARRANTY AS TO THE DESIGN CONDITION OR QUALITY OF MATERIALS AND WORKMANSHIP TO THE PURCHASER OF THE GOODS PURCHASED HEREBY OR ANY OTHER PERSON WHATSOEVER.SCARPA North America, Inc. reserves the right to make all warranty determinations which may include but are not limited to repair, replacement or credit for the product. If it is determined that there is no warranty issue with the returned product, the product will be returned to the dealer with a note of explanation.We ask that dealers are our first line of service in the warranty evaluation process, and prefer that all consumer warranty returns be handled through an authorized SCARPA dealer.
1 Review
Great shoe
Review by: stpaul74, 2011-02-14
I bought these shoes a couple of weeks ago to replace a different pair of Scarpas that I've had for a while. I'm a beginner and am very pleased with the performance, fit, and comfort as compared to other shoes that I have tried. I chose a women's 6.5 rather than an 7.5 which is my street shoe size and they feel like they mold to my feet. The size 7 would have been fine but I prefer them to be a bit tighter. I have climbed with them in the gym several times and on rock once so far. The edging is excellent but I'm hoping that the smearing will improve as they get broken in a bit more as I experienced quite a bit of slippage. My feet also get very sweaty and they don't provide the best ventilation. Aside from those two issues, these shoes are wonderful. I have not experienced any hot spots or extreme discomfort like I did with my old shoes and feel that they are helping me develop my footwork by allowing me to concentrate on my foot placement rather than how much pain I'm experiencing in my toes. I wore them for several hours without any major discomfort. I also like that they are lace-ups which allows me to fine tune the fit a bit more than moccs or velcro. I definitely recommend these shoes.