Next

5X Climbing Shoes
Item Details
|
Reviews
(
3
)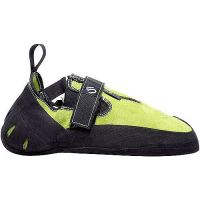 Manufacturer:
Five Ten



This item may be available at:
Description
To meet popular demand, we've souped up the Mocc. We named this super Mocc the Five Ten 5X. Designed for sport climbing and bouldering, the 5X has five times the advantages of a regular slipper, with a fish-hook mid-sole, power Velcro® Brand straps, Asym® elastic and zipper closure and Asym® slingshot rand. The unlined-leather shoe features classic Stealth® C4 rubber soles.
Features:
Creep along edges with the downturned toe
Keep your feet snug and secure in the lined leather uppers with Velcro straps and Asym elastic and zipper closures
Support your foot comfortably with the fish-hook mid-sole and Asym slingshot rand
Grip edges and holds alike with classic Stealth C4 rubber soles
Specifications:
Weight per pair: 1 lb 3 oz
Upper: leather
Lined: yes
Sole: Stealth C4
Specifications based on US Men's size 9.
3 Reviews
still in use
Review by: chipacles, 2009-03-16
I broke these in at my gym over a few nights, then switched them to my outdoor shoe. I love the feel of the shoe, the edging, the toe, everything...except the quality of the velcro strap.

I guess I need better footwork because I managed to wear out the nylon holding the metal rectangle which the velcro strap runs through. I know this is partially my fault, but I can't help feeling that it should have been a little more durable; after all, I've only taken the shoe out maybe 10 times, and my footwork isn't THAT bad.

Still, it's a good shoe, but I'm probably not buying another...
Great Shoe
Review by: dirtbagpackworks, 2008-12-21
This has become my favorite shoe. Went one size down from my street size. This shoe now it fits like a glove. Great for sport, bouldering, and cracks. I've used them for everything.
A blast from the past, but updated.
Review by: dudemanbu, 2008-07-09
Had to size them down a half size from my old zlippers. Was tight at first but after the leather stretched out (about 12 pitches) they fit just like the old ones, only with a better toe and heel. They edge and smear great, and frontpoint better than any other slipper i've tried.