Previous
Hooker Zip
Item Details
|
Reviews
(
12
)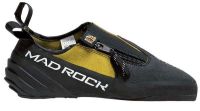 Manufacturer:
Mad Rock



This item may be available at:
Description
Model: Hooker Zip Sole: 3-D molded dual density, dual thickness Hooker sole, Mad Rubber Formula nos. 3 & 5 Heel Cup: 3-D molded Hooker heel with descent tread, Mad Rubber Formula #3 Rand: 2.0mm Mad Rubber Formula #6 Upper: Ribbed power upper with vents, 2.0mm Ultrasuede leather Midsole: 1.3mm 3-D molded nylon midsole Color: Lime Green Proof of Perfection: Mad Rock Molded Logo Construction: Double stitched, seamless binding, low-profile Lycra tongue Entry/Closure System: Twin external directional pull tabs, side entry system with locking zipper
12 Reviews

Write your own Review


Read all 12 reviews
Review
Review by: jm534, 2007-10-20
As my first pair of climbing shoes, they worked out great. Dual density rubber made a noticable difference and very easy to take on and off. And despite what others say, I think that they look decent.
PROS:
Pretty inexpensive, decent smearing (dual density helps), rather comfortable after sizing down 1/2 size

CONS:
Green shoe tends to turn feet highlighter green after extended use, zipper beginning to come undone at top after climbing even for a little, not the best life-span and are now my outdoor bouldering shoes
Wide foot
Review by: richardvg03, 2007-05-29
I bought these because I heard a lot of good stuff about them and I liked how they were put together. I have a wide foot and the hooker is a narrow shoe. I can't wear these shoes for longer than 45 min before my whole foot is in pain. If you have a wide foot, do not buy this shoe. If you have a narrow foot this is the shoe for you!
Review
Review by: bazirker, 2005-08-26
I bought these shoes about a year ago and have resoled them once. I sized them half a size below my street shoe size. These are my favorite of my shoes, I highly recommend them...although I feel like the velcro varient is probably more functional. Pros: They smear great, the rubber top is terrific on overhangs, they're easy to get on and off, and they're about as comfy as I can expect from a shoe that will still perform. I love the heel and arch. Cons: DDS climbs ok but isn't durable, a little weak on edging (possibly because the zipper doesn't lock down super tight on your arch, and the DDS isn't great for edging,) ugly as hell, zipper seems to be more of a gimmick and can come unzipped after awhile.
Review
Review by: crossmyheart, 2005-07-23
Just as it says.. the hooker.. it hooks nearly everything.. i have tried many routes with these pairs of shoes... i bought them at a sale of S$60... as the shop had wanted to clear old stock... it worked well.. heel hooking was GREAT as compared to my anasazis..... even the toe hooking was great.. it fits well into under roof jugs and u could really hang from ur toes... problem is it wears out fast... but they have lasted me 2 months with no problem yet... except the pull on straps tearing...
Review
Review by: bonads, 2004-07-11
I've only had these shoes for 3 days, but i really like them. I sized them down 1/2 a size, so they're tight, but they're very comfortable. So far, i like the dual density rubber. When i first used them, i put the soft rubber on the hold and when it gripped, it felt like i was standing on a huge wad of gum, it was that sticky. The ribbed heel cup is great for heel hooks and it also has a textured toe area, for toe hooks. I own a pair of Anasazi Southewest's and they will be my rock shoes while the Hookers will be my bouldering shoes.