Piranha Climbing Knife
Item Details
|
Reviews
(
2
)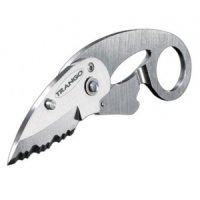 Manufacturer:
Trango



This item may be available at:
Description
Everyone needs a little knife and a way to carry it. The diminuative Piranha clips to a key ring or a carabiner so you can easily take where you need to go. The blade is machined from surgical quality 440-C stainless with a serrated bladeójust what you need to peel duct tape off your shoes or dig a splinter out of the palm of your hand. The locking blade can be opened and closed with one hand itís absolutely impossible to open when clipped to a carabiner. Bottle opener included.
2 Reviews
Review
Review by: renohandjams, 2005-07-26
Only 19 grams! This thing is tiny. The picture doesn't really show the size on it. Even though it is small the surgical steel blade is serated and plenty sharp to rip through webbing and even a rope if you had to. Bottle opener as well (the fin). If you don't already have the Trango shark nut tool I would recommend this, I have both. The shark nut tool has a 50% larger blade than the Piranha.
Review
Review by: kimgraves, 2004-12-24
Iíve been looking a long time for T.H.E. knife to carry on my harness for multi-pitch trad routes. This tiny, weightless knife is not good for fighting off bears or chopping wood, but itís perfect for cutting off the birds nest of slings that accumulate at rap points, spreading peanut putter, opening cans, or picking out the odd splinter. You can open, lock, unlock and close it one handed Ė easy with your right hand, doable with your left: good for those Aron Ralston moments. The serrated stainless steel blade is very sharp and cuts webbing with ease. When clipped to a carabiner the knife CANNOT be opened. It has a serviceable bottle opener. Trango advertises a screwdriver feature, but the one thatís on the tool is ridiculous. I like this tool a lot: the engineering on it is very sound. One possible downside, however, is an ergonomic one: itís small enough that it might be easily dropped. Clipping it back onto a biner, while opened, makes the handle functionally longer and gives you a place to wrap your fingers around.