Rope Protector
Item Details
|
Reviews
(
3
)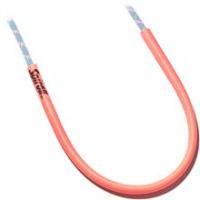 Manufacturer:
Spiroll



This item may be available at:
Description
Protect your rope form the wear and tear of abrasion and sharp edges. Easy-to-place Spiroll extends the life and reliability of your rope. - It self-wraps around the rope for a snug fit, no need to tie it off. - Constructed of an elastomeric polymer for maximum durability - Winter bonus, wrap ice screws in Spiroll to protect points and your pack during transport - Stores easily on coiled rope

3 Reviews
toprope and rappel
Review by: mark-1206, 2008-10-01
used in TR/ rappel; wrapped nicely around rope and stayed where I wanted it; much better than using backpacks to pad edges although you do want to occasionally check it's position on the rope
Works for fixed lines
Review by: unrooted, 2007-01-11
If you need to jug over an edge (not to sharp though) this thing will work for you, but you still need to pass it with your ascenders, helpful but kind of silly.
it works
Review by: p0bray01, 2007-01-01
Although be careful not to TR with this baby the rubber will wear through quite quickly.