Guard Box
Item Details
|
Reviews
(
2
)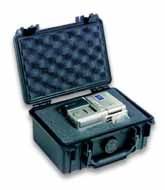 Manufacturer:
Pelican



This item may be available at:
Description
This case is great for cameras, gps's, cellphones and anything you want to be dry. Great for any climber who wants to keep something dry and safe from impact.
2 Reviews
guard box
Review by: Go-Devil, 2006-11-22
great stuff, its realy protective, i use em when i go diving ( my other hobby ;) ) and i've dropped em pretty often, they don't crack, they just get scratched up after a time...
u can drop a digital camera from 5m and stil remain in one piece...
Its a marvelous box, realy worth its price, xcept its kinda bulky....

Review
Review by: scubasnyder, 2004-02-23
Ive had this case for about 2 years and its like brand new, except the scratches. I always put my camera, gps and cell phone in this thing, it has fallen 80 feet and did not break. i have floated down rivers with this and all sorts of other things to test it, this is by far the best waterproof box i have ever had.