Power Station III
Item Details
|
Reviews
(
7
)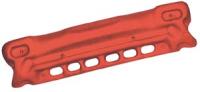 Description
Redesigned for your pleasure. The new Power Station makes training as plush as it can be. With everything one needs to get a sick workout: two super-comfy large jugs, two sweet slopers, two small edges, one large edge, two 2-finger pockets, three 3-finger pockets and the first real pinches a finger board has ever seen. Lots of other finger boards claim to have perfected the pinch, but those are always glorified side-pulls. The Power Station III's design forces you to use your thumb to hang on.
7 Reviews

Write your own Review


Read all 7 reviews
review
Review by: rhinoman, 2010-01-23
Almost the cheapest board you can buy. Great bang for your buck. Nice slopers and edges. Pockets not that great but they do the trick. Pinches are as hard as I've seen on a hangboard.
Power station
Review by: rudolphluciani, 2007-08-09
We've got this thing at my gym and it's alright. i like that the texture is pretty smooth and after a long bouldering session doesn't contribute to my shredded tips. I only really ever use the jugs on this bord to do pullups and lockoffs as we've got another board that's ancient and nameless with so many hold options that it boggles the mind so i use that for contact strength training.
Edit: I've recently started using the crimps for deadhang pyramids and enjoy them alot.
Review
Review by: dyno4life, 2005-05-10
awsome hang board. Good texture. and tons of combinations of holds. From slopers to pinches and pockets.
Review
Review by: billydude, 2004-10-27
i bought this because i skimped out on the metolius board. if your going to get a board, spend the extra 10-15 bucks and get a metoulius. this one is ok, but it does get dirty easily and has only so many options whereas the metolius has tons of diffrent options for its use. but overall, it works, just really consdier a metolius
Review
Review by: yay_chris, 2004-09-28
This hangboard is sastifactory, but is a long way from the quality and versitility that other boards provide. Here's what I like: The top of the board is fine. The 2 jugs are good for pullups and the slopers are pretty nice. But here is what I dislike: The two top pockets are practically useless - they aren't deep enough to effectively train. The mini-pockets at the bottom are decent, but I found that is was difficult to isolate training to your two middle & ring fingers. Friction becomes a slight problem as well. You need to chalk up often and early with this device. I prefer the Metolius boards to that of Franklin. However, the pricing is pretty good, and you will improve your climbing with the product.