The Manta
Item Details
|
Reviews
(
2
)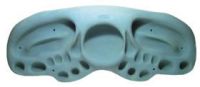 Manufacturer:
Stoneage



This item may be available at:
Description
A great hangboard brought to you from Stone Age climbing, designed by Tony Yaniro. It features two jugs, slopers, two big pinches, edges, crimps, and three, two, and mono finger pockets. Although big compared to most hangboards, it will still give you a great workout.
2 Reviews
great board!!!!!!!!!!
Review by: bushcarp82, 2008-04-18
The Manta is a GREAT board. I had one for only a few months before I had to get rid of it. I always got the best workout, outside of going out and actually climbing & going to the gym. it took a long time to find the right board for me, but it was worth the hunt. Alas, i had to get rid of it a long time ago and Stone Age no longer makes it. They don't even have any hiding in stock. Does anyone out there have one that they want to sell? I'd pay handsomely.
Review
Review by: lopside, 2006-09-25
An intermediate-advanced hangboard with difficult finger pockets, edges and slopers.

First what's good: I find it hard to get much of a pump off the metolius boards, particularly where slopers are concerned. This board provides a variety of sloping holds of various difficulties, as well as small edges and shallow one, two and three finger pockets. Its organic shape lends itself well to creative uses, while its large size makes off-set chinups a breeze.

Now the downside: Its size is a drawback; I don't personally have room for this board. Even the easiest edges/slopers are somewhat difficult. Its shipping weight and size makes delivery prohibitively expensive, particularly considering the 100$$ price tag.

All and all, a great product. When I'm at the gym, this is the only board I use. As of this writing, I climb strong 5.11a and am trying to break v3 bouldering.

update- I'd been stuck in v2+ territory for ever-- after a few serrious training sessions with this board, I'm climbing v4.