Seethe starter set
Item Details
|
Reviews
(
0
)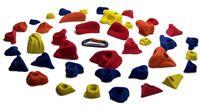 Description

"SEETHE"
Residential Grade
THIS SET WAS DESIGNED FOR BOULDERING.
THE SHAPES & TEXTURE ARE SUPER COMFY & TENDON FRIENDLY,
TRAIN FOR HOURS WITHOUT SORE HANDS!
40 HOLDS:
12 LARGE HOLDS: INCUTS, POCKETS & JUGS
14 COMFY CRIMPS
14 FOOT-HOLDS
Some of these foot-holds can be used as small hand-holds

Each set includes the necessary
T-nuts,
Bolts and a
Wrench.

You may choose Steel or Stainless Steel bolts
Let us know how thick your wall is
and we'll include the appropriate length.