Screw-On Footholds - 20 Pack
Item Details
|
Reviews
(
1
)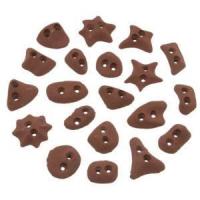 Manufacturer:
Metolius



Available now at:
Description
Your footwork will go to hell if you keep using handholds for footholds. Grab the Metolius 20 Pack Screw-On Footholds and scatter these tiny jibs throughout your home wall. Each of these footholds includes two screw holds to keep them from spinning just as youre about to send the blue-taped project.
1 Review
Review
Review by: mgoodro, 2005-04-05
If you put nothing else on a wall, load it up with these little guys; I've climbed on a single panel home wall with nothing but the B set and managed quite a workout. The difference between the A and B set is dramatic. The B's are mostly larger and many of them also make excellent finger holds. Both are worth having. At $1 a piece (cheaper on sale) they are a great way to cover empty space in a wall.