Thing Family
Item Details
|
Reviews
(
1
)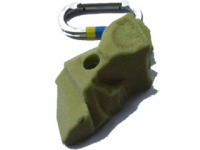 Description
Edges - 3 Large & 1 Medium Sold separately or as the Thing Family Set for additional savings. Climber and Eco-Friendly Many of our popular styles are true multidirectional holds that increase or decrease in difficulty with only a slight rotation of the hold itself. Our holds: - Are manufactured using a high-quality urethane for longevity - Contain UV resistant materials to reduce shape degradation - Contain recycled climbing hold material All bolt-on holds are washer reinforced for increased durability. In our original testing, we broke t-nuts before breaking our holds and our holds survived falls of over fifteen feet onto solid concrete with little to no damage. If you break a hold, we will remake it for you. Woody's Now Uses Recycled Packing Materials To Ship Your New Holds!!!
1 Review
outstanding!
Review by: aja175, 2007-07-23
I picked a lot of holds to use on a huge old tree in my parents backyard for my sisters kids. I love 'em, the kids love 'em. The texture of them isn't smooth or slimy like most other manufacturers. They work well wet or dry, and if I break one, I send it back to Woody's, they send me a new one. I couldn't be happier!