Previous
Wood Grips - 5 Pack
Item Details
|
Reviews
(
1
)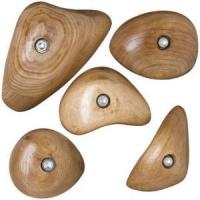 Manufacturer:
Metolius



Available now at:
Description
In many ways, wood is one of the most remarkable natural materials the planet has to offer us. It is strong, lightweight, workable and undeniably beautiful. It also grows on trees, so if we're wise about its use, it can always be replenished. Another amazing feature is that it feels incredible to the touch. When used in climbing holds, it seems to do the impossible: provide enough texture for excellent while having minimal impact on the skin. Wood is the perfect medium for people who want to train hard and save as much skin as possible for the next session. The combo of wood and chalk gives an excellent grip without resorting to textured surfaces which can dig into the skin.
We have actually been making wood holds for quite a few years now in the form of Campus Rungs. We are pleased to be able to extend this technology to the climbing holds themselves. No small feat as each and every Wood Grip is tooled individually by hand!
The wood we are currently using is from the Alder family. It is a relatively soft hardwood and is plentiful in nature. For many years, it was looked upon as a trash wood by the logging industry and was cut and burned on-site. Alder is actually a beautiful wood with a solid grain structure and good strength; it is also fairly lightweight and perfect for making wooden climbing grips. Wood Grips are a great compliment to any wall and help add variety to your training, a key element in keeping things diverse, fun and interesting.
1 Review
Review
Review by: orangekyak, 2005-01-17
[b]Overview[/b]
The idea of scraping together some wooden grips for my home wall to save money and have a few tendon-friendly holds occurred to me long before these came out. The problem was that I do not have the skills to engineer shapes anywhere nearly as nice as Metolius' wood grips. When these first arrived at the local rock gym, there was a definite novelty to them. They look great and have a smooth finish. Some of them look deceiving from below, apearing more positive than they actually feel. They have been reset at least three times and are at least as durable as their plastic counterparts.
[b]Pros[/b]
- Smooth finish is easy on the skin, good for contact strength training
- Shapes are varied and interesting
- Novelty
[b]Cons[/b]
- Smooth finish does not play well with a liberal coating of chalk and rubber
- Shapes are deceiving (perhaps a pro?)
- Only slightly more expensive than good plastic holds
[b]Value[/b] B-
The typical homewall is too steep for most shapes with these holds' smooth texture. If you are buying for a gym, go nuts, pick up a hundred, they're cool. If you're buying for home, put a five-pack on your holiday wish list, and make sure you get all jugs for your steep homewall. These things are smooth to the touch, and are too pricey to become oversized foot chips.