MOON Board System
Item Details
|
Reviews
(
1
)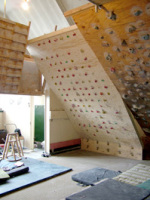 Description
Imagine being able to train on the very same holds, on the very same wall, and to follow the very same sequences devised by some of the strongest climbers in the world. Want to get motivated? Well, imagine having at your fingertips a list of training problems, and the knowledge that the likes of Ben Moon, Rich Simpson, and Malcolm Smith gained strength on those very problems. What's more, imagine being able to do all this by going no further than your own garage, your spare bedroom, or a nearby climbing gym. By following the MOON step-by-step instructions you can build your own board at the exact angle as theirs and space your T-nuts at pinpoint locations in an exact copy of their original. By using a set of School Room holds - numbered and marked in a compass design to identify and orient them - you can then replicate the exact same problems the MOON crew has been training on. What's more, you can share your own creations with climbers all across the world.
1 Review
Kicks ass!!!
Review by: butofcourse, 2010-04-19
The ability to train on high-quality hard problems in my very own garage makes this the best advanced training tool ever -- short of having a personal coach on staff.
It has totally transformed my training.

The problems are very challenging, and that is part of what I like about it.
If you are a beginner, forget about it.
If you are an intermediate climber, you'll probably modify the problems to make them easier.
If you always climb below your max level, love to send, and can't stomach failing, then you won't like the Moon Board.