Platypus Big Zip 3
Item Details
|
Reviews
(
3
)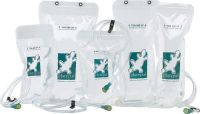 Description
A water resevoir from Platypus a company with Cascade Designs that has a large zip lock on top of it. Wide opening makes it easy to add ice cubes or drink mixes and fill under a faucet. Good-bye drink mix grunkies! Just reach inside for thorough cleaning. Available in five sizes; carrying handles can be added on the 3- and 4-liter sizes for hanging in camp. Also sold with a closure cap instead of drinking tube for use as a spare reservoir.
3 Reviews
If you are serious, don't buy this
Review by: seric, 2007-07-24
Reservoir started leaking through the zip after 2 days. It had not been punctured, or mistreated, and I still cannot find the problem. I will return it. Picture yourself at the second pitch belay with your backpack soaking wet and no water left. Platypus is just the cheap brand for reservoirs, go with Camelback.
Review
Review by: rockmaninoff, 2005-05-28
I have several Platypus products and like them all. The original bite valve was a little restrictive, but that has been remedied. Best for putting in the floating top pocket of a large pack or in a special hydration pocket of a pack. Don't have a Camelbak, so I don't know how the two compare.
Review
Review by: cheezhead, 2004-06-14
Great water resevoir. Very durable. I have a lowe alpine pack with water bladder pocket for a 2 liter resevoir. The big zip 3 however is the same shape as a 2 liter bladder except taller. So it just sticks out the top of the pocket by a couple inches and i have 3 liters of water instead of 2. At first i was weaty about the zip lock opening but after a couple of months of climbing and trhowing my pack around it has yet to open when i didn't want it to.

-Mike Goode