Splashguard
Item Details
|
Reviews
(
4
)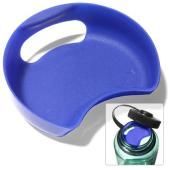 Manufacturer:
Nalgene



This item may be available at:
Description
-Keeps annoying spillage under control on wide mouth nalgene bottles
-Easily installs and removes for filling and cleaning purposes
4 Reviews
Review
Review by: drfelatio, 2006-11-03
Simple, yet highly effective. People would often tell me to use the narrow-mouth Nalgenes when I complained about wearing my drink. Unfortunatley you can't put ice in a narrow-mouth bottle. With the Splashguard I can have an ice cold drink without having to worry about wearing it.
Review
Review by: aikibujin, 2005-01-12
Works really well and inexpensive. You can now drive and drink from a Nalgene bottle at the same time, without spilling. If only all the car manufacturers would start to Nalgenize their cup holders...
Review
Review by: onbelay510, 2004-10-19
Great product. You no longer need to stop to drink without spilling all over yourself.
Review
Review by: scubasnyder, 2004-08-20
This is a great product for many reasons, keeps from spilling all over your face and it works great for measureing water for making different types of freeze dried food.