Grip Saver Plus
popular
Item Details
|
Reviews
(
6
)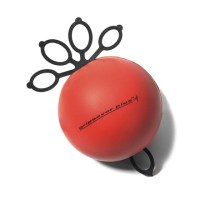 Manufacturer:
Metolius



This item may be available at:
Description
Train the right way with this hand strengthener, designed to strengthen and balance the muscles of the hand, wrist and forearm.
* Effective for rehab or prevention of climbing-related finger, wrist and elbow injuries, Grip Saver Plus is an essential tool for serious climbers
* Allows the hand to move through a full, natural range of motion, using both the flexion (closing) motion and the extension (opening) motion
* Set includes two Grip Saver bands and one sponge ball
After witnessing first-hand dozens of repetitive stress injuries of the hand, wrist and elbow, Dr. Terry Zachary decided to take some action. The result is the GripSaver Plus. ''Climbers are especially prone to imbalance injuries related to the inherent overuse of the flexor (closing) muscles of the hand and wrist. Climbers, in my experience, are among the strongest of all athletes as far as finger flexion is concerned, yet are very average relative to strength in hand and wrist extension. This leaves them wide open to the threat of repetitive flexion injuries. Climbers must be especially aware of addressing reciprocal muscle balance of the hand and wrist in their training. Not only will they reduce the risk of injury, but they will also improve their performance.'' Dr. Zachary compares this approach with training other body areas. ''When a fitness trainer guides a client through biceps muscle exercises, there will be equal attention focused on exercising the triceps muscle group. The same is true for most muscle groups in the body''. Imported.
Specs
Weight: 1.5 ounces
Material: Foam/rubber
6 Reviews

Write your own Review


Read all 6 reviews