Adventure Water Bottle
Item Details
|
Reviews
(
14
)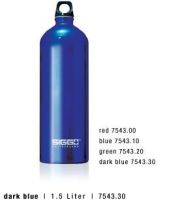 Description
This is a water bottle made from alluminium. The plastic cork has a rubber band to prevent leaks. It comes in a variety of colors and in four different sizes.
14 Reviews

Write your own Review


Read all 14 reviews
I Heart Sigg
Review by: croll, 2010-03-10
I just broke my Sigg Bottle after three years of abuse- everyday. This bottle is the best. Two times around the world and it still looked amazing- dings and all. The bottle was perfect and even saved my life once. I had to beat down a man that broke into my hotel room with it- weapon of opportunity! Needless to say a tear was shed when the bottle finally broke- i had it completely full and in a freezer- a ding cracked open and split the bottle. I miss you Sigg>
Can't be much better...
Review by: ClusterFock, 2008-03-25
well, really. what more could you want with a water bottle. It holds enough, clips to your harness, doesn't leak, doesn't crack and it's light weight.
Mine is covered in dents, chips and scratches and still looks good and provides it's primary function of holding water without leaking. Pretty straight forward.
I even filled mine up and froze it. Didn't crack with the increased pressure, instead the bottom of the bottle just bowed out of shape to accomodate the increase in internal volume. Reassuring if freezing is a risk (ie: alpine climbing).
Tastes Good/ Light weight
Review by: widm, 2008-03-24
I wonder where the previous reviewer got his/her information about the breakdown of the Sigg liner. This is on sigg's website: http://www.mysigg.com/index.asp?PageAction=Custom&ID=5

I know you're thinking of course they're going to say that about their own product. But I'm wondering where ilovealiens gets their info.
SIGG Bottles, bad news for your body.
Review by: ilovealiens, 2008-03-14
Aside from the obvious problem of having a water bottle that looks identical to your fuel bottle, I assume you tried sigg due to the Nalgene recall?? However, it seems that people have forgotten about the toxicity of plastic bottles.
"Bisphenol A is added to hard, clear polycarbonate plastics like those used in reusable water bottles and baby bottles....Research on lab animals has linked the chemical to changes to the genital tract, prostate enlargement, declined testosterone levels, pre-cancerous breast cells, prostate cancer, early puberty in females and hyperactivity." Aluminum bottles pose severe health risks, and there is a proven link between aluminum intake and alzheimers disease. The veg based liner in the Sigg bottles wears away and chips when dented exposing you to the aluminum.
The best option is a stainless steel bottle, such as "Guyot
bottles" or "kleen Kanteens"
Using an actual fuel bottle poses other risks as the lining is made not for drinking out of, but rather to prevent the fuel from damaging the inside of the bottle.
yuck.
Quality and goodlooking.
Review by: yeo32, 2008-03-03
I love these bottles. They can take the abuse any climber can give them. I've taken mine out, and they are pretty badly dented, but that just gives character, right?
For someone looking for a new bottle, these are the way to go. With all the talk about Bisphenol A, I just enjoy the peace of mind that goes with an aluminum water bottle. I've never had any problems with the lining cracking and leaking to the drink, and I've had it for 2 years.
Bottom line: Fashionable and durable.