Cloudliner Hydration Bags
Item Details
|
Reviews
(
1
)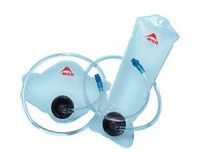 Description
Hydration bag and mouth piece. The mouth piece does not leak when pressure is on it like most. It really needs to be bit at the right place. The bag itself is especially flexible and will not crack like the thick ones on the market.
The exclusive, taste-free polyethylene film is chemically inert, meaning you'll taste the water, not the bag.
The CloudLiner's abrasion resistant material survived more than 10 six-foot drops without damage.
1.9-liter for lumbar and top-loading packs and a rectangular 2-liter bag for hydration packs.
360° swivel elbow prevents kinked hoses and impaired water flow.
Compatible with MSR Waterworks and Miniworks Filters
1 Review
Review
Review by: savedbymynuts, 2003-04-23
The best hydration bag I found. The mouth piece does not leak when something happens to squeeze it; you have to bit it at the right place. The material used for the bag itself is also quit good and does not get damaged after it has been kinked many times.