Hydromedary Hydration Bag
Item Details
|
Reviews
(
3
)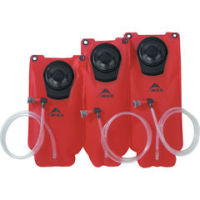 Description
Stay hydrated while on the go with the MSR 2.5L Hydromedary Hydration Bag, the most durable hydration system available and built with a MSR Reda 200D Cordurar. A No-Leak bite value delivers a high flow rate and comes equipped with a shutoff value to prevent leaks and spillage. Easy to fill carry and clean, thanks to built in handle, the puncture-resistant Hydromedary Hydration Bag holds 2.5 liters of liquid and with a streamlined design will fit into most hydration sleeves and backpacks.
3 Reviews
Arsenic
Review by: sweetchuck, 2006-11-14
I had one of these years ago. I loved it for backpacking and would heat up water to put in it and use it as a pillow. Everyone complained about the bad taste and not being able to see the murk within. I told them to STFU and that I had just cleaned it. Well years later some friends saw it and said it had been recalled. They had used an Arsenic based antibacterial something inside to keep it fresh. Sure enough I sent it in and got a new one. I guess the new ones are fine, the old ones had brass grommets, so if you have one of those, send it back. Now I prefer Plattys, you can see through them at the murk, they are cheap, although they do wear out quickly.
Review
Review by: mrgoldebrown, 2006-07-31
I had one of these and it leaked when there was pressure on it - not like a jeep pressure, but like when it was in my pack and other stuff was pressing on it.
Review
Review by: tattooed_climber, 2004-09-16
i don't care about the "plastic" taste, this things are as Bomber as Bomber comes!