Hydromedary™ Hydration System
Item Details
|
Reviews
(
1
)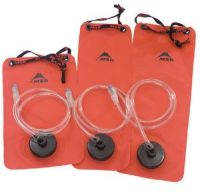 Description
Concerned about bladder failure out in the backcountry? If so, you'll appreciate the rugged character of MSR's Hydromedary System. The Hydromedaries are slimmed-down offshoots of our Dromedary Bag, designed to fit into your current hydration pack or backpack.
Made from lightweight but incredibly tough 200-denier nylon lined with food-grade polyurethane, the Hydromedary bags are the strongest hydration system available.
The high-capacity, 40-inch drinking tube will stay soft and flexible even in freezing temperatures.
MSR Bullet Bite Valve prevents leaking.
360° swivel elbow prevents kinked hoses and impaired water flow.
Compatible with MSR Waterworks and Miniworks Filters
1 Review
Review
Review by: scubasnyder, 2004-12-25
Only reason i got this instead of my camelbak is because it hooks up to my msr water filter, the bite valve is a little weird but the camelbak tube is compatable. good for drying as well because you can hang out from the bottom.