Unbottle 100 oz - True Blue/Graphite
Item Details
|
Reviews
(
2
)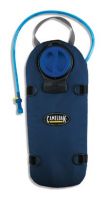 Manufacturer:
Camelbak



This item may be available at:
Description
No need to hunt for a bottle any longer. Slip the leak-proof UnBottle® into any daypack or expedition pack to create an integrated hydration system. And, refill quickly with external access to the OMEGA™ Reservoir.
Features & Specifications
• Easy fill, easy clean via the OMEGA™ Reservoir
• Includes the patented HydroLock™
• Threaded cap securely holds water for leak-proof performance
• Fully insulated to keep liquid cold for hours
• Durable exterior is abrasion-resistant and lightweight
• D-rings for attaching the UnBottle® on the outside of your pack
Capacity: 100 oz (3.0 L)
Dimensions: 18.5 in x 8.25 in x 0.5 in (470 mm x 210 mm x 13 mm)
Volume: Cargo – N/A
• Total Volume – 180 cu in (3.0 L)
Weight: Empty Reservoir – 0.66 lbs (0.30 kg)
• Filled Reservoir – 6.91 lbs (3.14 kg)
2 Reviews
Review
Review by: mgoodro, 2005-04-27
Leakproof, virtually indestructable, and smaller than a pair of Nalgenes when empty. The snap-on strap clips are surprisingly tough, they've never accidently popped off. I've used this in my BD Bullet pack, TNF daypack, Kelty and REI backpacks and even straped to the back of a Kelty Kids carrier. I went with 100oz over 70 because of negligable weight diff; the 70oz is only slightly smaller empty. This is one of the only ways I would trust this much water in the same bag as my gear.
Review
Review by: onbelay510, 2004-11-24
It's a good idea...however, three liters of water takes up alot of room in your pack. If I had to choose between a couple Nalgenes on the outside, it would be the Nalgenes. But if space isn't an issue, it's a great product.