2007 Rockclimbing.com Video Contest
by ddt
The Rockclimbing.com Video Contest is now open for business! Show us your moves, mix in your tunes and edit your way to glory. The winner of our video competition will walk away with a Sony DCR-HC48 1MP MiniDV Handycam Camcorder with 25x Optical Zoom. To get in on the action simply shoot some footage of you or your mates climbing something, edit it into a smoking hot 1-5 minute video, tag and submit it to the competition. That's it you're on your way to movie fame and greatness. Write your acceptance speech Spielberg!
How to enter:
Shoot footage...
Edit and do your stuff...
IMPORTANT: Tag your video with "videocontest01"
Hit me with the Rules!
You must hold the copyright to the video. Any fakes or stolen videos will be removed.
The final video must be between 1 and 5 minutes in length
Eligible video entries must be tagged: videocontest01
You can upload as many clips as you want.
The competition will run till May 31, 2007. No entry will be accepted after midnight (GMT), May 31, 2007.
After confirmation of winner eligibility has been made the winner will be announced on Rockclimbing.com on June 11, 2007.
The prize is as listed. No cash substitutions will be allowed. Prizes can not be transferred to another person.
If the winner cannot be reached via the phone number, e-mail address or mailing address in their Rockclimbing.com Account by June 15, 2007, a disqualification will result, and an alternate winner will be chosen.
The judge's decision is final on all matters concerning the contest.
Rockclimbing.com employees and their immediate families shall not be permitted to participate in the competition.
The winner agrees to permit his/her name and photographic likeness to appear on Rockclimbing.com.
The winner will assume and be responsible for payment of the required federal withholding tax, if any, and all other fees, and local, state and federal taxes.
Void where prohibited, taxed, or restricted by law.
All federal, state, and local laws and regulations apply.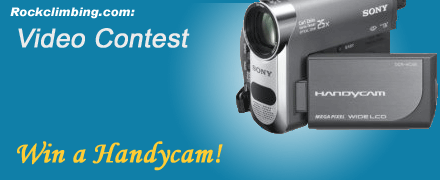 thomasribiere

2007-04-09
Who votes? Any user? Some professional? Users who have submitted videos already? What about mutliple accounts to bomb up or down some videos? etc.
ddt

2007-04-09
Thomas, the winner will be decided by a panel of judges, not by user votes. One of the reasons for this is to avoid the potential issues you're referring to.
thomasribiere

2007-04-09
OK, thanks for having clarified.
jrodriguez

2007-04-10
what about the music? Do you need to hold the rights to the soundtrack as well?
coastal_climber

2007-04-11
Obviously not, lots of people on youtube use tracks they don't own.
Add a Comment