Rock Climbing is Sexy
Submitted by
theclimbergirl
on 2010-07-13
Rating
:






Login
to rate this article. Votes: 0 |
Comments
: 2 | Views: 9935
by Sara, TheClimberGirl
Apparently, climbing is sexy. Climbing is "the sexiest sport from a female perspective," according to a study reported in the book "59 Seconds: Think a Little, Change a Lot" by Richard Wiseman.
A whopping 57% of women find climbing "attractive" in members of the opposite sex. Nearly as interesting to me, as a female climber... 41% of men state that the activity of climbing makes a woman more attractive.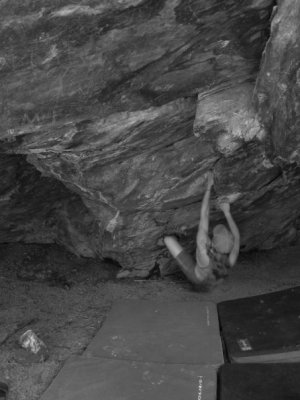 Showing off my guns, Leavenworth, WA
Tiffany Royal
Perhaps, such respondents don't actually have exposure to the reality of extended periods of time without showers, the wounds we all incur from jamming our way up and stumbling our way down routes, and the particular loneliness that can come with being in such a stark, intimate setting with another human being who doesn't seem to care much for you, other than as a weighted object that can hold a rope...
There are definitely unsexy times in climbing.
But, I digress...
According to the study:
"The work involved over 6000 people indicating which sporting activities would make a member of the opposite sex more attractive. Results revealed that 57% of women found climbing attractive, making it the sexiest sport from a female perspective. This was closely followed by extreme sports (56%), football (52%), and hiking (51%). Bottom of their list came aerobics and golf, with just 9% and 13% of the vote respectively.
In contrast, men were most attracted to women into aerobics (70%), followed by yoga (65%), and going to the gym (64%). Bottom of their list came bodybuilding (5%), rugby (6%), and golf (18%)."
Poor golfers. More information, including a discussion among male and female climbers on the topic, is over at RockClimberGirl.com. The details of the original study are available at Quirkology.
Livefortrad1987

2010-09-22
As a male climber I feel that female climbers are sexy on a physical level because of the shape a climber needs to be in. But there is an attaction to female climbers because they understand climbing, which most women dont. This intern adds to their attraction.
Dazz

2010-09-30
I agree with the above. I'm attracted to female climbers. They are usually very fit (have to be), and generally like the same challenges and being outdoors.
Add a Comment