Sandstone Crack-climbing
Submitted by
climbingparadis
on 2010-10-07 | Last Modified on 2010-10-08
Rating
:






Login
to rate this article. Votes: 5 |
Comments
: 14 | Views: 12830
by Vaclav Novotny
A crack is an obvious challenge. Challenge which needs lot of courage, sweat and pain. You can make it by a solid hand-jam, clenched fists, powerful off-width technique or made-of-steel fingers. Don't forget strong legs, those are very important.
For someone even one move in a crack can be equal to a bloody hell, for others it can be a paradise with naughty angels playing sweet melodies on the strung tapes.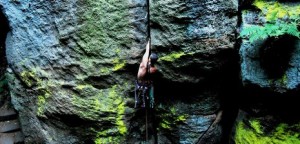 Crimson Knuckles (VIIIc), Prachov Rocks, Czech Paradise, Czech Republic
Sandstone crack climbing paradise or hell is with no doubt Adr. Smoothly stark towers crossed by non-compromising lines of cracks look like relentless thugs. Guys who icily look you up and down keeping a stiff upper lip. But if you are too cheeky they jump at you and start beating you with their rough fists. Victims of this brutal attack – in the better case – come out of it with bleeding hands, arms, legs and time to time head. In the worse case they have to see a doctor. But every time when you manage to win you have a feeling of the merry joy in your soul. The joy of forests, wind, clouds on the sky, sand at the bottom of the rock, tired friend's hand-shake, women's curve and mostly the joy of the foamy pint of the goodness which is probably impossible to tire of.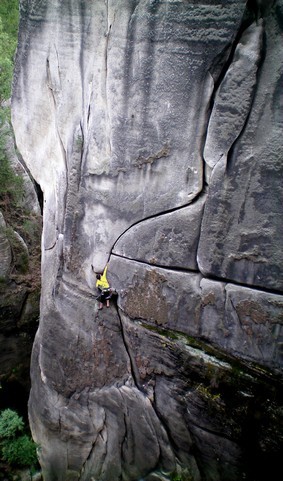 Policka Route VII, Adrspach Rocks, Czech Republic
But a path to this cheerful victory is not easy. It takes a lot of suffering, pain, blood and full commitment. Time to time it's needed to admit a loss and back out with strong language, because mangled up show-off can hardly pick up enough courage for the next try.
But after a time of discovering the right fight tactics, tricks and cunning twists the mystery of those grinning lines starts to be clear. Rough mill-wheels of the earlier infernal cracks starts more look like honey lips of gorgeous young ladies who are available only to the insistent fighters. But be careful – time to time those ladies like to suck a fresh blood of obtrusive tough guys.
Crack climbing wisdom doesn't fall from the sky onto just anybody, but theoretic crack climber falls offten. That's why in those magical rock features you need to shake, sweat, rub, swear, snort, get tired, fight as a tiger or roar as a lion.
I think that those who got discourage by the first scratch or burning pain have to feel they have deprived themselves of the large part of the climbing heaven, which is as crossed by cracks as pumped hands are by swelled veins.
It's never too late. You just need to get some courage, cope with the sight of your own blood and slowly start to dip your hands, arms and legs into the magical darkness of the crack verticals, diagonals and horizontals.
kennoyce

2010-10-08
Question: What can we learn from this article?






Answer: That English is certainly not the author's first language.
philbox

2010-10-08
Another thing we have learned is that someone other than a person who's first language is English was brave enough to type this out and do a fairly respectable job at it too I might add.

Speccy looking crack in the second pic too, I love crack climbing and that S bend beckons.
chimmie

2010-10-09
Beautifully and colorfully written; encourages me.
petertherock

2010-10-10
kennoyce, I agree the article is not very educational appart from showing that Adr and Prachov in Czech Republic have good sandstone cracks. That you found out that English is not the 'first language' in Czech Republic is amazing.
watertroll

2010-10-15
Well, I've been just thinking native speakers could help to improve the language of such articles by sending the author a proofread version so he/she can post it.
stoyanoff

2010-10-15
Just to remind somebodies that, this site is for rock climbing and have much lesser with English grammar. Thanks for introducing Chech R climb opportunities
sonso45

2010-10-16
Can you use metal gear or is this the area you need knotted slings for?
camilotto

2010-10-17
You have to use knotted slings only. That's the main constraint for climbing in all Czech sandstone areas. The sceond main constraint especially in Adrspach is, that the parallel structure of the cracks don't held many placements for knotted slings. From this it follows that most of the cracks in Adrspach are widely unprotected.

Look here for more photos of crack climbing in Czech Republic, mainly in the famous Adrspach area:
http://piskari.cz/top-fotky.php?page=0
...
http://piskari.cz/top-fotky.php?page=29

climbingparadis

2010-10-17
Same article, but more photos
http://www.climbing-paradise.cz/en/from-the-press/news/92-piskovcova-spara
pmw

2010-10-18
Keep in mind that crack climbing is a very unpopular discipline in Europe. If someone likes it, it is very likely that he or she is British, Norwegian or Swedish or has learned to climb in one of Germany's or the Czech Republic's sandstone areas. There is also the small possibility that the person climbs in the Alps, or in locations generally more famous for sport climbing, but has a little bit of an excentric taste or belongs to the European climbing elite. But the majority does not know how to place a jam, in fact they often even hate it. When the average European climber speaks of crack climbing, he really means liebacking. Considering these facts, I consider the text a really nice approach to show the beauty of crack climbing in a poetic way. Keep on!
Also remember that it is still possible, that the author never had English lessons at school, but had to learn Russian instead.

As a rule of thumb:
Ex Warsaw pact sandstone areas: knotted slings only;
The rest: nuts, cams, whatever you want. Bolting policies vary.
watertroll

2010-11-11
I'm not sure anybody ever explained why they have this "strange" ethics there. The reason is purely practical and not because Czech climbers are crazy, psychic, stoned or drunk. Sandstone in this area is composed of a very thin darker outer layer of 1 or 2 milimeters over a very sandy and fragile inner base. When the outer layer is destroyed, the rock begins to seep and disintegrate incontrolably. So, if several climbers use a metal device in the same place, they will distroy the outer layer and nobody will ever be able to put a protection there. I also strongly approve the magnesium ban as I'm fed up with white-painted stone where you can make no real judgement about your on sight grade.
Actually, if you climb in your grade, Czech sandstone climbing isn't so frightening at all. Some routes are quite well protected, you just have to be highly selective.
healyje

2010-11-16
"I think that those who got discourage by the first scratch or burning pain have to feel they have deprived themselves of the large part of the climbing heaven, which is as crossed by cracks as pumped hands are by swelled veins."

Coming from a similar sandstone area minus the cracks, I'd have to say in 36 years of climbing I've never felt even slightly deprived. But I have always wanted to get over there and get on some of that rock.
mmartinezdehoz

2010-11-17
not very useful.
Ronadon

2010-12-04
I'm relatively new to crack climbing, and I love it, I would not mind tradeing my granite razor teeth cracks for some sandstone every once in a while.
Add a Comment