Previous
Standard Oval
Item Details
|
Reviews
(
7
)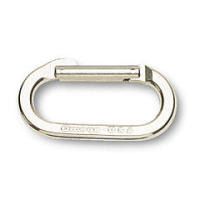 Description
Your basic cold-forged, aluminim biner at a friendly price.
Gate Opening: 16 mm
Weight: 65 gm
Major-Axis Strength: 22 kN
Minor-Axis Strength: 8kN
Open Gate Stregth: 6 kN
7 Reviews

Write your own Review


Read all 7 reviews
Review
Review by: onbelay510, 2004-10-13
Higher strength rating than the BD, but uglier and not as easy to use. I pull these when I need something bomber, but I like the feel of the classic oval design better.
Review
Review by: ontario_guide, 2004-09-07
Good basic oval 'biner. Nice and cheap without any of the bells or whistles.
Review
Review by: arschles, 2004-08-11
a bit heavier than their bd counterparts, but the good things about this biner outweigh that
Review
Review by: wiscoclimbiner, 2004-07-06
i have only used these for slacklining but they have worked fine, they are stronger and cheaper then the BD counterparts
Review
Review by: jstp, 2004-06-10
Among the ovals i have used (OP, metolius, petzl, BD both regular and wiregate, SMC, and tons of generic which i believe are either SMC or OP manufacture) this is my least favorite. They have a high strength rating and a hard to beat price, but that is about it. They are not very good for aid due to their complex, snag prone, shape. The shape helps to give this 'biner its strength, but in generall the shaping seems to cause clutter. I have retired them to slackline use, but even there they are poor because of their shape. i find the SMC, BD or other ovals made of flattened round aluminum stock far superior for simple reductions that utilize just webbing and 'biners.
Pros: economical, strong.
Cons: snag prone shape, poor oval (comparatively) for aid or simple slackline setups.